Please Sign Up to Request This Product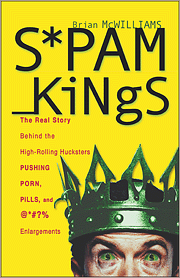 View Amazon Product Page
Spam Kings, hardcover edition
The Real Story behind the High-Rolling Hucksters Pushing Porn, Pills, and %*@)# Enlargements
You need to be an approved reviewer to request a product. Please sign up to request access or login to your account.
If you've already signed up and you haven't heard from us yet please email reviewers@oreilly.com and we will check on your request.
Description
The mounting onslaught of email pitches for porn, pills, and penis enlargement has some techno-pundits declaring that spam is on the verge of destroying the Internet. In Spam Kings, author and veteran investigative journalist Brian S. McWilliams delivers a compelling account of the cat-and-mouse game played by spam entrepreneurs (including the notorious Davis Wolfgang Hawke, "Dr. Fatburn," and Scott Richter) in search of easy fortunes and the cyber-vigilantes who are trying to stop them.
Reviews
On Oct 20 Jeffery Rine wrote:
Spam Kings is a fascinating look into the heyday of email spam, back in the day when there was easy money to be made. From the standpoint of the "bulkers", as they considers themselves, they were merely exercising their right to earn a living in a free market society. Their nemesis, the anti-spammers, were a bunch of meddlesome do-gooders set on taking their right to earn a living. Full Review >
Rating:
5.0