Please Sign Up to Request This Product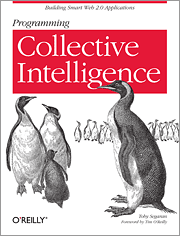 View Amazon Product Page
Programming Collective Intelligence
Building Smart Web 2.0 Applications
You need to be an approved reviewer to request a product. Please sign up to request access or login to your account.
If you've already signed up and you haven't heard from us yet please email reviewers@oreilly.com and we will check on your request.
Description
This fascinating book demonstrates how you can build web applications to mine the enormous amount of data created by people on the Internet. With the sophisticated algorithms in this book, you can write smart programs to access interesting datasets from other web sites, collect data from users of your own applications, and analyze and understand the data once you've found it.
Reviews
On Aug 30 Malcolm Groves wrote:
Full Review >
Rating:
5.0
On Jul 8 Hildeberto Mendonca wrote:
Full Review >
Rating:
5.0
On Apr 5 Marie Story wrote:
Full Review >
Rating:
3.0
On Mar 1 Peter Zsoldos wrote:
Full Review >
Rating:
4.0