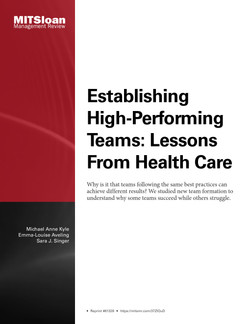 Establishing High-Performing Teams: Lessons From Health Care
by
Michael Anne Kyle
,
Emma-Louise Aveling
,
Sara J. Singer
Released February 2020
Publisher(s): MIT Sloan Management Review
ISBN: 53863MIT61328
Explore a preview version of Establishing High-Performing Teams: Lessons From Health Care right now.
O'Reilly members get unlimited access to live online training experiences, plus books, videos, and digital content from 200+ publishers.