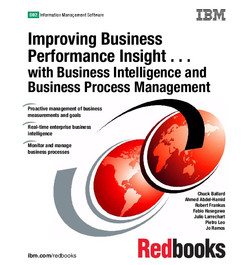 Improving Business Performance Insight . . . with Business Intelligence and Business Process Management
by
Chuck Ballard
,
Ahmed Abdel-Hamid
,
Robert Frankus
,
Fabio Hasegawa
,
Julio Larrechart
,
Pietro Leo
,
Jo Ramos
Released
Publisher(s): IBM Redbooks
ISBN: None
Explore a preview version of Improving Business Performance Insight . . . with Business Intelligence and Business Process Management right now.
O'Reilly members get unlimited access to live online training experiences, plus books, videos, and digital content from 200+ publishers.