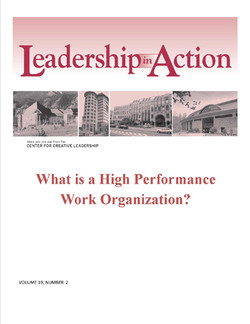 Leadership in Action: What is a High Performance Work Organization?
by
Bradley L. Kirkman
,
Kevin B. Lowe
,
Dianne P. Young
Released June 1999
Publisher(s): Center for Creative Leadership
ISBN: 9781604914825
Read it now on the O'Reilly learning platform with a 10-day free trial.
O'Reilly members get unlimited access to live online training experiences, plus books, videos, and digital content from O'Reilly and nearly 200 trusted publishing partners.