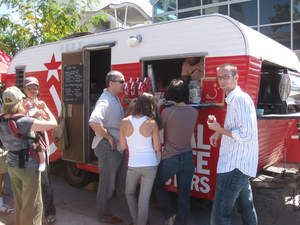 SAN MATEO, CA--(Marketwire - May 17, 2010) - Maker Faire, being held May 22nd and 23rd, 2010 at the San Mateo County Event Center, has again teamed up with HOMEGROWN.org, a project of Farm Aid, to create HOMEGROWN Village. Celebrating Makers who participate in the process of food reaching our plate, HOMEGROWN Village showcases those who choose to live closer to and more sustainably with the earth.

Some of the farm-to-plate things you can learn, do, and see in The HOMEGROWN Village at Maker Faire Bay Area 2010 include:

Workshops
Buttermaking with California Organic Valley farmers
Makin' Bacon with author Karen Solomon
Fermentation: Kimchi and pickles with chef Sandy Zeldes
Making Seedbombs with HOMEGROWN.org
Solar Cooking with Sun Sky Soil
Molecular Gastronomy with chef Michael Zbyszynski
The ½-Acre Homestead in the 21st Century with Lloyd Kahn
Yogurt Making with farmer Rachel Brinkerhoff
Sprouting and Microgreens with Moria Merriweather
Butchering Demonstration with Samin Nosrat and Meatpaper
Exhibitors
Beekeepers Guild of San Mateo County -- featuring live bees in an observation hive, beekeeping equipment, and hive products such as honey, honeycomb, candles and homemade soap
Chick-in-a-Box -- a chicken tractor (coop) that is functional, sturdy, handmade and stylish
EcoEarthYacht -- a 22-foot vintage ecologically outfitted Airstream trailer that displays green-built materials such as an all-bamboo interior, wind turbine, on-demand water heater, solar panels and LED lighting
Local Dirt -- everyone's place to buy, sell, feature, or find local food in their community
Master Gardeners Education Table
Mushroom Growing kits
Neighborhood Fruit -- sharing both backyard bounty and trees on public land
PlantsOnWalls vertical garden panels
Greywater Systems -- plumb your way off the water grid
HOMEGROWN.org -- an online gathering place of growers, gardeners, cooks, bakers, cheesemakers, preservation freaks and anything else DIY around growing and eating.
Top Shelf Ultra Premium Kombucha
WindowFarms: Hydroponic Edible Gardens for Urban Windows
The San Mateo County Master Composters
SPROUT Seed Library -- grow, share and enjoy the power of seeds!
Food Makers
Maker Faire also brings unique, artisan prepared-food vendors and makers. Our hand-picked, small-scale food makers from various farmers markets around the Bay Area include:
| | | |
| --- | --- | --- |
| | | Gerard's Paella |
| | | Kashaya's Brick Oven Pizza |
| | | Pica Pica Maize Kitchen |
| | | Brittany Crepes & Galettes |
| | | Tru Gourmet Organic Dim Sum |
Back this year is Ritual Coffee Roasters and their "Sputnik" trailer serving home coffee and espresso.
Hodo Soy Beanery will also be there teaching Maker Faire attendees how to make tofu.
Other gourmet foods in HOMEGROWN Village include Apollo Olive Oil, CMB Sweets (jams), Clairesquares (chocolates), and more.
"HOMEGROWN Village and Maker Faire work together to bring the farm closer to the table in San Mateo," explained Event Director Sherry Huss. "Maker Faire attendees are very aware of localvore food issues. Foodies -- makers and appreciators -- come together at Maker Faire to share, discuss and learn how to save, enjoy and spread the Bay Area's bounty."
Get ready to be inspired, motivated and tantalized by the amazing things people make to eat -- from tofu to chocolates to makin' bacon. At Maker Faire, foodies of all kinds come together to share their ideas, passions, and palates.
Tickets can be purchased on-site (cash or credit) or at the retail locations listed below:
AAA offices: Potrero Hill, Lakeshore Plaza, Richmond District, Financial District, Daly City, San Mateo, Palo Alto, Redwood City, Menlo Park, and Mountain View
Cartoon Art Museum, San Francisco
Copperfield's Books: Calistoga, Healdsburg, Napa, Petaluma, Santa Rosa, and Sebastopol
Exploratorium, San Francisco
Whole Foods Markets: San Mateo, Redwood City, Novato, and Potrero Hill
For more ticket information, please visit: http://www.makerfaire.com/bayarea/2010/tickets/
| | | |
| --- | --- | --- |
| | Advance Retail Locations Purchase Price (through 5/23/2010) | Onsite |
| Adult | $20.00 | $25.00 |
| Student (13 to 20) | $10.00 | $15.00 |
| Youth (4 to 12) | $5.00 | $10.00 |
| Kids (3 & under) | Free | Free |
Weekend passes are only available online, or on-site at the full price.
Maker Faire Bay Area 2010 sponsors include: AAA, Blick Art Materials, Chevrolet, Clif Bar & Company, Epilog Laser, Ford, GeekDad, Gravity, Hewlett-Packard, Jameco, Livescribe, Lego Education, Lion Brand Yarn, Newegg.com, Provo Craft, Ryonet Corp., ShopBot Tools, Singer, SparkFun Electronics, Spy Gear by Wild Planet, TechShop, Whole Foods Market, and Xyron.
About Maker Faire
Maker Faire is being held on May 22 & 23, 2010 at the San Mateo County Event Center. Started in San Mateo, California in 2006, and now expanding to Detroit and New York, Maker Faire is the premier event for grassroots American innovation. Held annually in each of these locations, the event may expand elsewhere in the future. Maker Faire is supported by MAKE Magazine (makezine.com) and O'Reilly Media, the premier information source for leading-edge computer technologies. The company's books, conferences and web sites bring to light the knowledge of technology innovators.
ABOUT HOMEGROWN.org
HOMEGROWN.org is an online community that enhances the relationship between family farmers and eaters through the shared experiences of growing food and participating in an agrarian life. It is a part of Farm Aid's program work to cultivate a greater demand for good food from family farmers and strengthen the links between farmers and eaters. HOMEGROWN.org has become a gathering place for eaters and farmers who celebrate the "culture" in agriculture and share skills like growing, cooking and food preservation. Join the conversation at www.HOMEGROWN.org.
About O'Reilly
O'Reilly Media spreads the knowledge of innovators through its books, online services, magazines, and conferences. Since 1978, O'Reilly Media has been a chronicler and catalyst of cutting-edge development, homing in on the technology trends that really matter and spurring their adoption by amplifying "faint signals" from the alpha geeks who are creating the future. An active participant in the technology community, the company has a long history of advocacy, meme-making, and evangelism.