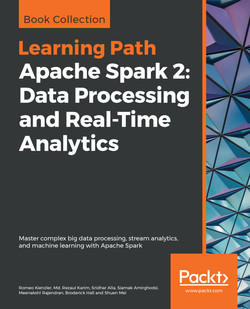 Apache Spark 2: Data Processing and Real-Time Analytics
by
Romeo Kienzler
,
Md. Rezaul Karim
,
Sridhar Alla
,
Siamak Amirghodsi
Released December 2018
Publisher(s): Packt Publishing
ISBN: 9781789959208
Explore a preview version of Apache Spark 2: Data Processing and Real-Time Analytics right now.
O'Reilly members get unlimited access to live online training experiences, plus books, videos, and digital content from 200+ publishers.