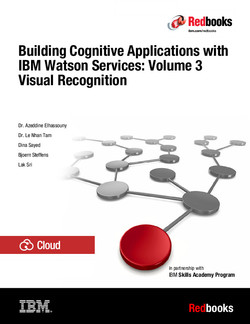 Building Cognitive Applications with IBM Watson Services: Volume 3 Visual Recognition
by
Dr. Azeddine Elhassouny
,
Dr. Le Nhan Tam
,
Dina Sayed
,
Bjoern Steffens
,
Lak Sri
Released May 2017
Publisher(s): IBM Redbooks
ISBN: 9780738442570
Explore a preview version of Building Cognitive Applications with IBM Watson Services: Volume 3 Visual Recognition right now.
O'Reilly members get unlimited access to live online training experiences, plus books, videos, and digital content from 200+ publishers.