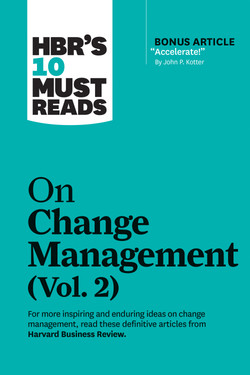 HBR's 10 Must Reads on Change Management, Vol. 2 (with bonus article "Accelerate!" by John P. Kotter)
by
Harvard Business Review
,
John P. Kotter
,
Tim Brown
,
Roger L. Martin
,
Darrell K. Rigby
Released March 2021
Publisher(s): Harvard Business Review Press
ISBN: 9781647820992
Explore a preview version of HBR's 10 Must Reads on Change Management, Vol. 2 (with bonus article "Accelerate!" by John P. Kotter) right now.
O'Reilly members get unlimited access to live online training experiences, plus books, videos, and digital content from 200+ publishers.