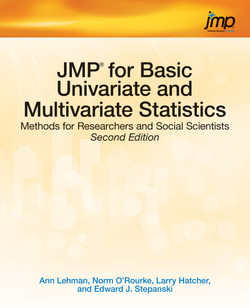 JMP for Basic Univariate and Multivariate Statistics, 2nd Edition
by
Ann Lehman
,
Psych. D. Psych. Norm O'Rourke
,
Ph. D. Larry Hatcher
,
Ph. D. Edward J. Stepanski
Released April 2013
Publisher(s): SAS Institute
ISBN: 9781612906256
Explore a preview version of JMP for Basic Univariate and Multivariate Statistics, 2nd Edition right now.
O'Reilly members get unlimited access to live online training experiences, plus books, videos, and digital content from 200+ publishers.