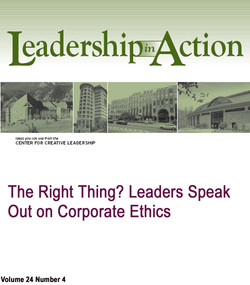 The Right Thing? Leaders Speak Out on Corporate Ethics
by
Gina Hernez-Broome
,
Judith Steed
,
Sue Lundberg
Released January 2004
Publisher(s): Center for Creative Leadership
ISBN: 01520110044SI
Explore a preview version of The Right Thing? Leaders Speak Out on Corporate Ethics right now.
O'Reilly members get unlimited access to live online training experiences, plus books, videos, and digital content from 200+ publishers.